In celebration of our 40th anniversary and Butterfly Wishes 2022, we raised a record-breaking $500,000 to make even more magical wishes come true. Thanks to our donors' generosity and an exciting night filled with joy and hope, a Wish with Wings is able to continue providing joyful experiences to young Texans with life-threatening conditions. Learn more about our 40-year mission.
---
Since 1982, we've been putting smiles on the faces of children by making their wishes come true. These kids and their families face some of life's hardest challenges, but we get to be the ones to make magical things happen for them.
Grab a box of tissues and get ready for some happy tears. These are some of our most memorable wishes from over the years.
---
4-year-old pets cheetahs; grows up to help with their conservation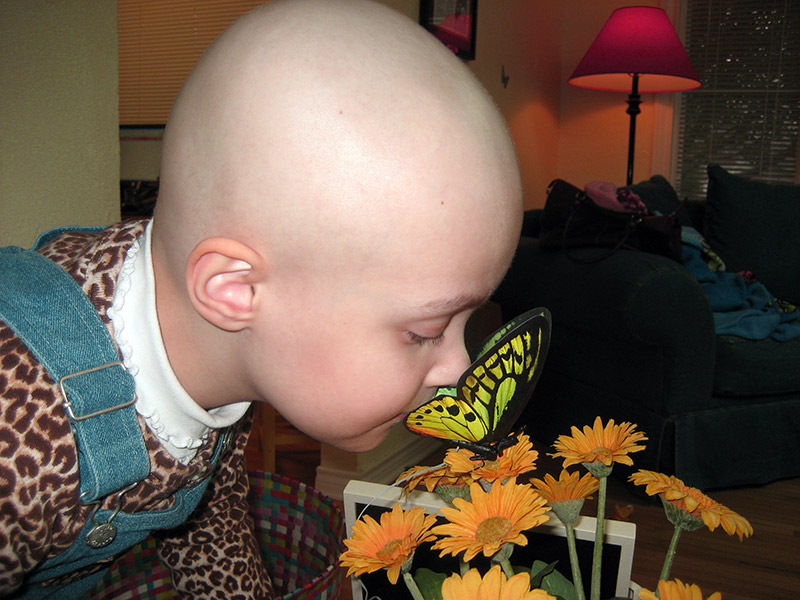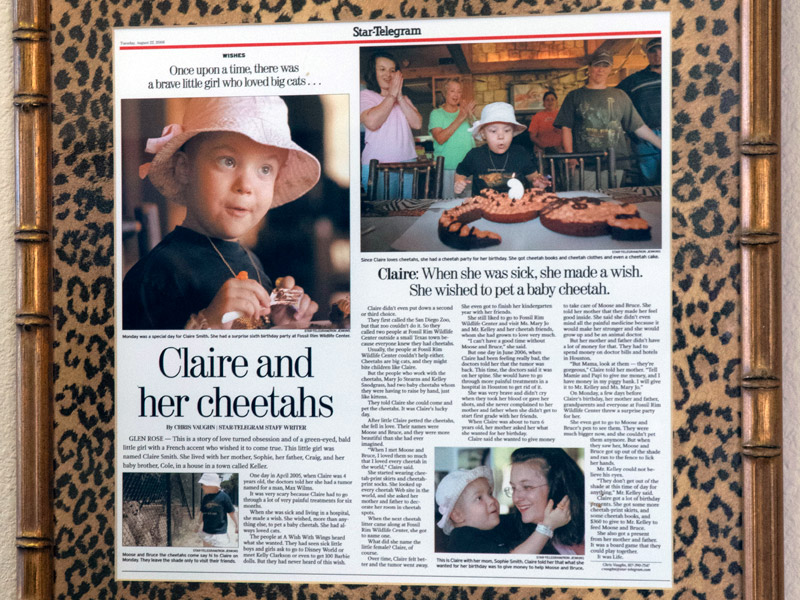 Diagnosed with Wilms tumor in 2005, 4-year-old Claire from Keller wished to pet a baby cheetah. Fossil Rim Wildlife Center had recently welcomed twin cheetah cubs, Bruce and Moose, who had been separated from their mom while she underwent medical treatment. They were still relatively harmless at 3 months old, so Claire was able to go into the enclosure and spend time getting to know them. Years later, Claire made it her mission to see "her cheetahs" as often as possible and even donated her birthday money to support Fossil Rim's cheetah conservation program.
"I have loved cheetahs all my life because they are so gorgeous." – Claire
---
Teen gets a custom tuba; grows up to teach music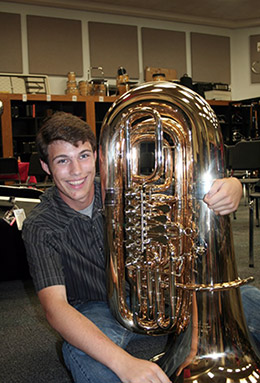 Diagnosed with Hodgkin's disease in September 2010, then 15-year-old Payden visited the Wish House to talk about his one true wish to interview his favorite author, Rick Riordan, author of the Percy Jackson & the Olympians series. A packed tour schedule made a meeting with Riordan unlikely, so we moved on to Payden's second wish – a custom outfitted German Miraphone tuba. The tuba took months to complete and ship to Texas, all while Payden was unaware of our plan. Meanwhile, Riordan agreed to a virtual meeting with his young fan, even providing autographed copies of several of his most popular titles. The "meeting" took place at the Arlington Public Library with assistance from their amazing staff to ensure a flawless connection. Payden arrived prepared with a notebook of questions. After an impressive interview, Payden joined a room filled with friends and family for a wish celebration! A few months later, Payden attended a "mandatory Sunday afternoon band practice," only to find his friends, family and the Wish Ladies alongside his bandmates, presenting him with the glistening tuba adorned with a bright red bow. Payden was speechless.
Payden went on to graduate from college with a degree in music, is now married and teaching pre-K – grade 6 music in North Texas. He still plays his tuba daily.
---
Hawaii vacation becomes unforgettable American moment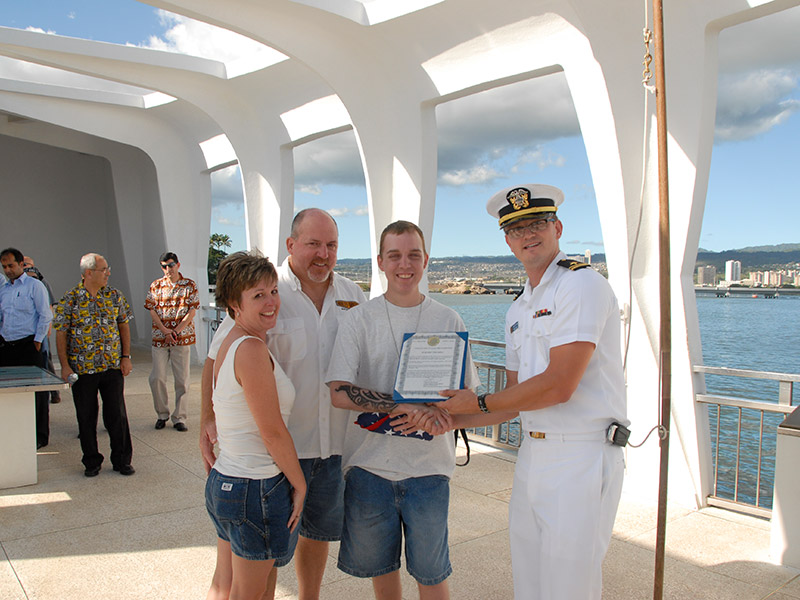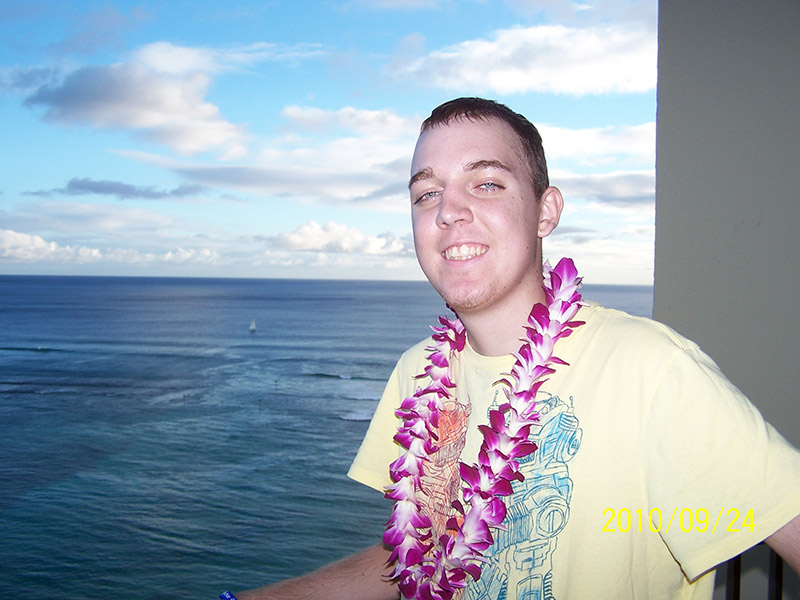 Jeramy, age 16, didn't merely want to enjoy the beautiful Hawaii beaches. The history buff wanted to personally visit Pearl Harbor and the USS Arizona Memorial. Diagnosed with a rare type of lymphoma, Jeramy, along with his mom Amy and dad Pat, received a highly exclusive invitation to board the Navy "White Boat" for a private tour of Pearl Harbor with Lt. j.g. Casey Two Bears – which requires special permission from the admiral. Jeramy was invited to drive the boat, and after the boat docked at the Arizona Memorial, he was asked to assist with a flag-raising ceremony. After lowering the flag again, the officers folded it and presented the flag to Jeramy ceremoniously with a special letter from the U.S. Navy.
Less than two years later, after his body rejected a second bone marrow transplant, Jeramy's brave fight was over. But the memory of him raising that flag has remained a joy to his parents.
"The three of us were not able to contain the emotions as tears spilled down our faces with love and appreciation for the memories, sacrifice and pride that we hold for our country." – Amy and Pat
---
Dolphin kisses with extra love – doctor's orders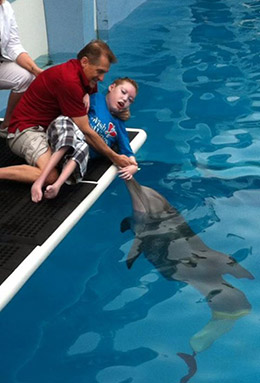 Brandon Thompson was born with severe epilepsy, which left him both non-verbal and non-ambulatory. Yet his engaging smile and twinkling eyes deeply connected with everyone who met him. On the Physician's Authorization page of his wish application, under "Other Requirements," Brandon's doctor specified "Extra Love."
Brandon was 16 when his parents, Sharon and Brent, brought him to meet the Wish Ladies, and it was love at first sight for all of us (Brandon was a bit of a flirt). Although Brandon was unable to communicate his wish to us, we were inspired by his love of the movie "Dolphin Tale" – based on the true story of Winter, a bottlenose dolphin who was fitted with a prosthetic tale after being injured. Brandon's mother suggested that maybe he would enjoy meeting Winter in person.
Brandon's wish was the first one granted in 2014. At Clearwater Marine Aquarium, Brent carried his frail son onto the platform at the water's edge and Brandon watched as dolphin after dolphin swam by. Only when Winter swam near did he respond with excitement. Brent gently dipped Brandon's hand into the water, and Winter "kissed" his hand. The entire audience stood and cheered. Winter died in November 2021, and Brandon followed a few short weeks later.
"We think Brandon followed Winter into heaven. He passed peacefully holding his little stuffed Winter the Dolphin from his 2014 wish trip. Thank you all for allowing Brandon to be a typical kiddo for the best week of his life." – Sharon and Brent
---
Girl swims with dolphins; soars as an advocate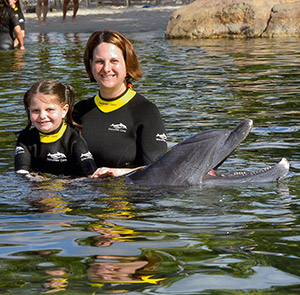 Hallie Bea is a little Texas tornado. For the first 10 years of her life, she fought Diamond-Blackfan anemia (DBA), a rare bone marrow disorder that can only be cured with a bone marrow transplant.
But Hallie didn't just wait around. At age 6, she started Hallie's Heroes, a nonprofit to get as many people as possible to join the bone marrow registry. Hallie joined forces with fraternities, police officers, firefighters and more, finding hundreds of matches for others. Finally, at age 10, it was Hallie's turn! A bone marrow transplant cured her DBA.
When Hallie was diagnosed with a cancer in her thigh bone a month later, she didn't let it get her down. She took it as a calling from God to expand her advocacy to all children with cancer, and after an amputation to become cancer-free, she is still going strong, also working with the Wish Ladies to raise funds to grant other children's wishes.
A Wish with Wings granted Hallie's wish to swim with the dolphins in 2016 when she was 7. She had the best time meeting the dolphins and exploring Walt Disney World.
"My heart took so many pictures! I will never forget this trip!" – Hallie Bea
---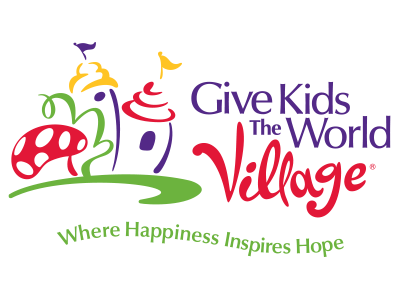 Over the past 40 years, our most requested wish has been to visit Walt Disney World in Orlando, Florida. An essential partnership with Give Kids the World Village helps ensure that our Wish Families have the most magical experience possible: a cost-free, stress-free, worry-free week enjoying all four Disney Parks, Universal Studios, SeaWorld – and maybe even ice cream for breakfast.
Annie, Kye, Ellie, Elliott and Evan are among hundreds of Wish Kids who've made memories at the most magical place on earth with their families.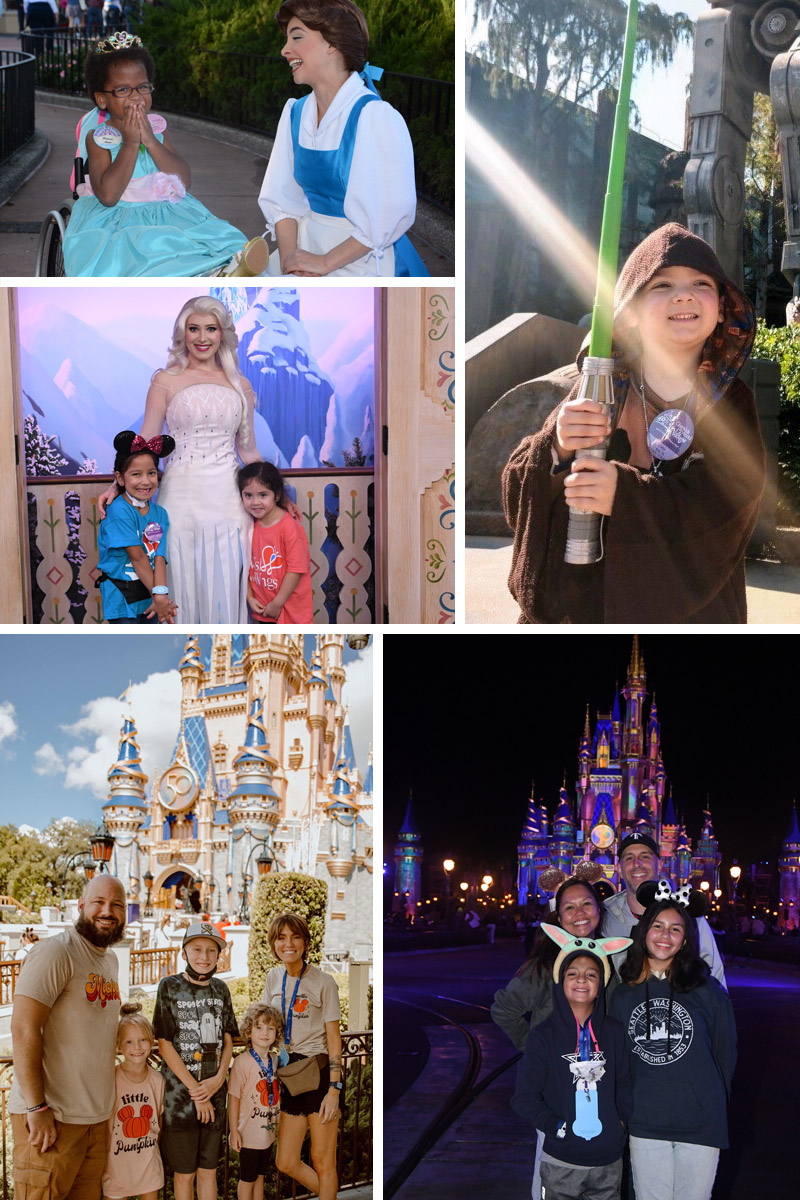 ---
Breaking records. Reaching 40 years.
Despite an ongoing pandemic, we were able to grant the wishes of 65 children in 2021 – a record-breaking year for us. In 2022, we celebrated our 40th anniversary and reached a total of 1,700 wishes. Then in 2023, we broke our record again, with more than 100 wishes for a total of over 1,800 wishes granted.
All that, and we're just getting started. Help us continue making magical memories for the kids who need them most.